A 5K/10K race was organized by the Centre County YMCA.  Amateur radio operators were needed to provide communications due to a lack of cell phone coverage in the area of Black Moshannon State Park.
Bob KC3KVS was stationed at the first checkpoint of the 10K race. A 5-watt handheld transceiver was sufficient to reach the NARC 146.76 repeater on Rattlesnake Pike which was used for race communications.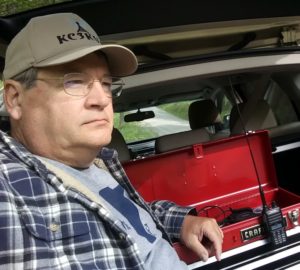 Here's how Checkpoint 1 looked to the approaching runners.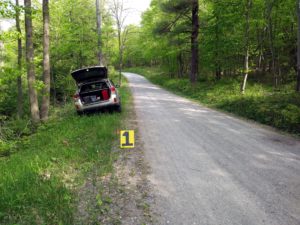 And here's how it looked from the vehicle.
Darren W3DLD manned Checkpoint 3.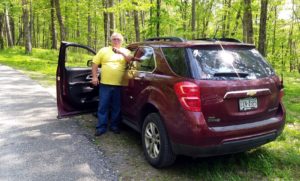 Additional PARA members (not shown) included Bernie (W3BAR) and Dick (W3BIE).  All of the radio operators had stopwatches which they synchronized to a starting signal that was transmitted by radio.  They called out the elapsed time to each group of runners as they passed so that the runners could judge their pace.
It was a beautiful day and the many expressions of gratitude from runners were very much appreciated.  Next time, Bob will try to remember to take some photos of the runners as they pass!