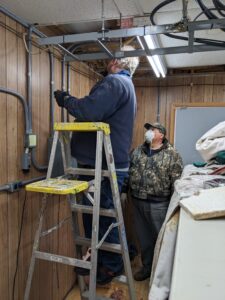 On Monday, January 16, Darren Dixon, John Horgas, and Bob Snyder replaced about a dozen damaged ceiling tiles and several batts of fiberglass insulation at the Rattlesnake repeater site.
Many of the original tiles and insulation along the north wall had been repeatedly saturated over a period of years due to a roof leak. In 2022, Centre County installed a new roof and this has completely eliminated the leaks.
The new tiles will help to give the building a new lease on life.